In purchasing equipment for the outdoors, I always use the same thought process. How often am I going to upgrade my equipment based on the new radical improvements that
the manufacturer will come out with? How long before my existing equipment will become obsolete and I will have to replace it? How long will it be before I have a disadvantage with my existing equipment? When the time came to choose snowshoes, I decided that I would choose the best snowshoes that I could afford based on the use of the snowshoes.

Snowshoes allow you to go to places in the snow that normally you wouldn't be able to get to and snowshoes also allow you to climb steep hills and mountains. There are many snowshoe features to consider when choosing snowshoes and all the options available are important.

What type of activity are the snowshoes going to used for?
Recreational - Are you just going to using the snowshoes on a golf course, on a flat trail, in the local park or just easy hiking? The recreational snowshoes are the least expensive, lightweight and have an easy binding system to hold your boots to the snowshoes. Choose the smallest snowshoe that will support you since you will generally be on packed snow and will require less floatation on powdered snow.
Backcountry - The backcountry snowshoes allow you to climb steep terrain, are constructed better than the recreational snowshoes and have more sophisticated binding systems. Choose a snowshoe that will moderately support your weight and size since you will be on powdered snow. If you are mountaineering, you will require much more floatation for deep powder and a larger snowshoe.
Fitness - The fitness snowshoes are for running in packed or groomed snow. Choose the smallest snowshoe that will allow you to run comfortably.

What do you weigh? Depending on your weight and the weight of anything carried (such as a backpack, etc.), the snowshoe must be the correct length to keep you from sinking in the powdered snow. If you are only going to be snowshoeing in packed powder, possibly choose a smaller length snowshoe.
under 70 pounds - children

70 - 155 pounds - 8x21

90 - 170 pounds - 8x25

170 - 220 pounds - 9x30

Over 220 pounds - 10x36

Please keep in mind that these are only recommended sizes. Each snowshoe manufacturer might have a different chart based on the shape, the design and the materials used in their snowshoe. Keep in mind that some snowshoes have removable and add-on tails. So, you can start with a 21"-23" length snowshoe and add a 4"-8" tail. These type of snowshoes give you the most flexibility.

What type of frames & decking?
Most snowshoes have aluminum frames and rubber decking while some snowshoes are completed manufactured from plastic. I use a plastic snowshoe because it is light, can use a smaller size and it is adjustable (can add different size tails for different snow conditions). The type of snowshoe you decide to use is a personal decision. Some snowshoes have crampons, braking systems, adjustable heights or angles for the boots and many other features. Decide what features you need based on the type of conditions you will be in.

What type of bindings?
The main consideration for bindings are: Can I adjust them while wearing gloves or mittens? Are they easy to put on and take off? Are they adjustable for all the types of footwear that I might wear? Are they comfortable?

Try before buying!
Some outdoor retail stores will rent the snowshoes to you and apply the rental toward the purchase price. It is always best to try them out before buying them if you possibly can. Hiking poles have to be chosen for snowshoeing.

Don't forget to learn how to maintain your snowshoes correctly because incorrect methods might damage your snowshoes and choose snowshoes wisely.
Outdoor Eyes Photography & Outdoor Adventure Blog
Yellow And Orange Butter And Eggs Wildflowers Along The Trails On Cape Cod
There are many pretty Butter and Eggs wildflowers along the trails and roads here on Cape Cod. They are yellow and orange, the colors of "butter and eggs." They resemble a garden Snapdragon with   flowers that are 1/2 -1″. The plants grow from 1-3 feet from July through September, so you still have a little … Continue reading Yellow And Orange Butter And Eggs Wildflowers Along The Trails On Cape Cod →

Terrapin Turtle Cages At The Mass Audubon Wildlife Sanctuary On Cape Cod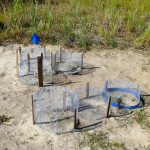 As you walk the trails at the Mass Audubon Wildlife Sanctuary in Wellfleet on Cape Cod, you will come across many of these little cages. "Members of the Day Habilitation program make cages to protect the endangered Diamondback Terrapin Turtle population. This spring they made 25 cages. These protective cages are delivered to the Wellfleet … Continue reading Terrapin Turtle Cages At The Mass Audubon Wildlife Sanctuary On Cape Cod →

Scallop Shells Under The Bridge In Eastham On Cape Cod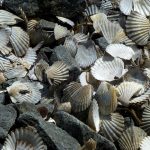 I always stop on the Bridge Road bridge to see what I can see in the waters below. This time I happened to look down on the rocks and see them piled high with Scallop shells. I wonder how the shells got there. Did the Seagulls drop them on the rocks and then feast on … Continue reading Scallop Shells Under The Bridge In Eastham On Cape Cod →

Our Garden At Our New Home On Cape Cod Is Blooming With Flowers!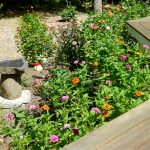 When we moved in this past spring we planted some Rose bushes and Day Lilies in the back yard. They would be pretty and come up each year. But I had to have my favorite flower, the Zinnia. I think they are so pretty and they bloom and bloom and bloom. Now I have so … Continue reading Our Garden At Our New Home On Cape Cod Is Blooming With Flowers! →

Kayaking On The Creeks Of Cape Cod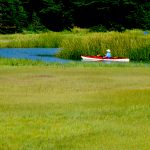 This kayaker looked so content kayaking on one of the creeks here on Cape Cod. Lots of time you can launch on the bay or on a river and then paddle up one of the creeks or tributaries. Just be careful that you watch the tides. You don't want to be stuck in the mud at … Continue reading Kayaking On The Creeks Of Cape Cod →